On 11 March 2020, Laura Kreiling defended her PhD thesis:
"Intermediaries in innovation ecosystem – delineating practices and context of European Knowledge Transfer Organisations"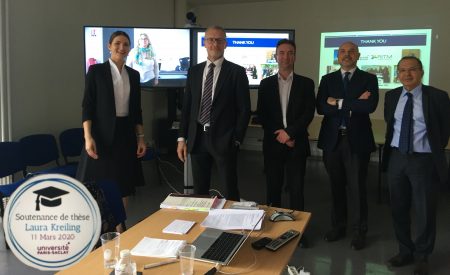 Thesis supervisor: Prof. Ahmed Bounfour
PhD committee:
Prof. Pascal Corbel, Université Paris-Saclay (RITM) – President
Prof. Jakob Edler, Fraunhofer Institute (ISI), University of Manchester (MIoIR) – Rapporteur
Prof. Catherine Thomas, Université Nice Sophia Antipolis (GREDEG) – Rapporteur
Raffaele Trapasso, OECD – Examiner
 This thesis research is on intermediary organisations for the transfer of knowledge and technology from academia to industry in innovation ecosystems. Managerial practices and regional context of European Knowledge Transfer Organisations (KTOs) are investigated to enrich the understanding of their managerial determinants. A systemic approach is adopted resulting in research on multiple analytical levels. Consequently, the empirical part of this thesis consists of three studies. The first analyses the influence of actors in the regional innovation system. Based on interviews at French regional KTOs and stakeholder theory, a theoretical model on their value creation ambidexterity is created and seven regional stakeholders identified, as well as six organisational roles which are adopted in response to the regional context. The second study is on internal managerial practices and investigates their maturity in relation to other KTO performance dimensions using dynamic capabilities and contingency theory. It results in the development and initial use of a holistic practice-based maturity model for KTO performance management. Initial data from 17 European KTOs shows that maturity is highest in the area of 'translation & combination' practices and lowest for 'knowledge management'. The third study uses reference group and benchmarking theory to develop a clustering approach for the comparison of similar European KTOs based on existing activity metrics. A framework is proposed based on which transnational European peer groups are created with a clustering approach. Variables related to the internal knowledge transfer culture primarily drove cluster creation, followed by the external ecosystem and KTO budget. In conclusion, the research findings shed light on emerging topics in the university-industry knowledge transfer literature, particularly on the existence and influence of regional stakeholders, the role of capabilities and practices in performance management and the ability to not only create transnational groups for benchmarking and bench-learning but also visibility on the variables that drive cluster creation. This has managerial and policy implications as well as provides fertile ground for future research on management at the intersection of academia and industry.
Cette thèse porte sur organisations intermédiaires de transfert de connaissance et technologie du monde universitaire vers l'industrie, au sein des écosystèmes d'innovation. Les pratiques de gestion et le contexte régional des organisations européennes de transfert de connaissances (OTC) sont étudiés afin d'enrichir la compréhension de leurs déterminants managériaux. Une approche systémique est adoptée qui aboutit à des études empiriques à de multiples niveaux. La première porte sur l'influence du contexte régional et analyse le rôle des acteurs dans les systèmes d'innovation régionaux. Sur la base d'entretiens dans des OTC régionaux français et de la théorie des parties prenantes, un modèle théorique sur l'ambidextrie de création de valeur est développé, sept parties prenantes régionales identifiées, ainsi que six rôles organisationnels adoptés. La deuxième étude porte sur les pratiques de gestion interne et examine leur maturité par rapport à d'autres dimensions de la performance des OTC en mobilisant les capacités dynamiques et la théorie de la contingence. Il en résulte l'élaboration et l'utilisation d'un modèle de maturité holistique fondé sur les pratiques managériales des OTC. Les données d'enquête initiales de 17 OTC européennes montrent que la maturité est la plus élevée dans le domaine des pratiques de "traduction et combinaison" et la plus faible pour "la gestion des connaissances". La troisième étude utilise le groupe de référence et de l'analyse de benchmarking pour développer une approche de regroupement de OTC européennes basée sur des indicateurs d'activité. Un cadre est proposé sur la base duquel des clusters européens transnationaux sont créés. Il en ressort que les variables liées à la culture interne de transfert des connaissances sont principalement à l'origine de la création de groupes, suivies la variable "écosystème externe" et de celle relative au budget. En conclusion, cette recherche contribue à l'émergence de nouveaux thèmes dans la littérature sur le transfert des connaissances entre l'université et l'industrie, en particulier sur l'existence et l'influence des intervenants régionaux, le rôle des capacités et des pratiques dans la performance des OTC et la capacité non seulement de créer des groupes transnationaux pour le benchmarking et le benchlearning, mais aussi la mise en évidence des variables qui déterminent la création de groupes. Cela a des répercussions managériales et de politiques publiques, mais également les offre un terrain fertile pour la recherche future en management sur les liens entre les universités et l'industrie.